Superman: Doomsday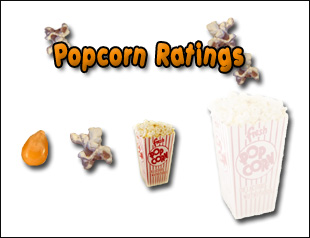 Click here for more info on the Popcorn Ratings System

Popcorn Review by Bill Ramey, aka "Jett."
He is the founder and editor-in-chief of BATMAN ON FILM


September 24, 2007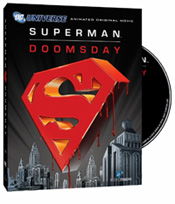 You know, there's a lot of Superman out there of late. You've got SMALLVILLE on TV and SUPERMAN RETURNS on the big screen last summer. He's on the animated series LEGION OF SUPERHEROS (where there are two "Supermans") and is guest-starring on THE BATMAN 's first two episodes this season. Then there's all this talk about a big-budget JUSTICE LEAGUE film coming in 2009. And maybe someday, Bryan Singer will give us a sequel to the aforementioned SUPERMAN RETURNS .
So as you can see, lots of Superman in various incarnations for all to enjoy.
However, I left one fairly big project off that run-down above because I'm going to focus on that particular project today. And said project is the animated, direct to video, PG-13 film, SUPERMAN DOOMSDAY .
Warner Bros. and DC Comics are currently producing more mature, PG-13 rated animated films based on their comic book characters, and SUPERMAN DOOMSDAY is their inaugural entry.
Back in the early 1990s, DC Comics published a multi-issue storyline titled "The Death of Superman." Lasting several months and crossing over in the all the Superman monthlies, DC gave us a gimmicky storyline where Superman died and then returned. In between, four beings appeared each claiming to be the real Superman returned from the dead. Ultimately, the real Man of Steel did return, long hair, black costume and all.
This animated film adaptation is loosely based on the comic book story. You've got Superman's killer -- Doomsday -- in it, and Superman "dies" and then returns, but that's about all the comics and the movie have in common.
I'm not going to waste your time going over the plot, because frankly, it's quite obvious, you know? Superman dies and then returns, duh! What I will focus on is whether or not it's good and worth your $20 some-odd bucks. So right of the bat, yes it's good and yes it's worth your hard-earned coin.
I thought that SUPERMAN DOOMSDAY is well-written and entertaining. I found myself caring about the people you are supposed to care for -- namely Superman (Adam Baldwin) and Lois Lane (Anne Heche) -- and hating whom you are supposed to hate -- one Lex Luthor (James Marsters). If you love to hate Lex, you are REALLY going to enjoy how he is portrayed in this movie because he's one cold and despicable SOB. By far, this is the darkest I've ever seen Lex portrayed in either comics, film, or animation.
As I said previously, SD is only loosely based on "The Death of Superman," so there is no "Reign of the Supermen" subplot as there was in the comics. However, the writers of SD have their own version of it and it works quite well. In fact, it's the core element of the story.
Disappointments? Yeah, the animation for one. Now it wasn't bad, per se, but for a film, I was expecting better. It looks and feels no different from the Superman animated series of the mid to late 1990s. In fact, you could interpret SD as being in the same continuity of that series if you want, although it isn't. Anyway, I never once said or thought, "Man, that really looks good!" Honestly, the animation on TV's THE BATMAN is better (and I liked the look of its version of Superman better as well).
Also, what's the deal with Superman's face? He's got some sort of goofy-looking lines on his grill. Since when did Clark have an acne problem as a kid?
Top-notch vocal performances by all of the cast, especially Marsters as Lex. Baldwin was more than adequate as Superman while Heche's turn as Lois is pretty good -- although there was a little something missing that I just can't put my finger on.
While a complete story with a beginning and end, the writers leave open the possibility of a sequel. Don't worry, it has nothing to do with Doomsday returning for round 2.
In sum, SUPERMAN DOOMSDAY is indeed worth your time and money and is a fine first-entry into Warner's line of PG-13 animated DC films .
EXTRAS:
"Requiem and Rebirth" - The story behind "THE DEATH OF SUPERMAN" from the guys at DC COMICS.
Commentary by Producer Bruce Timm, Writer Duane Capizzi, Voice Director Andrea Romano and Executive Producer Gregory Noveck.
Featurette - "Behind the Voice"
Exclusive Sneak Peak at JUSTICE LEAGUE: THE NEW FRONTIER .
Over all, the extra features are very, very good. The best part is the " Requiem and Rebirth" mini-documentary.
JETT'S GRADE: B+