From movie news to our world- famous Popcorn Ratings,
Popcorn At The Movies.com is YOUR destination for latest information on the hottest movies!
Check out our newest Popcorn Reviews:


What's new in movie news?
Here's a recap of some of the biggest upcoming movies...
Updated November 13, 2007
Star Trek - Wynona Ryder was cast as Spock's human mom, Amanda. YIKES!
Justice League - I'm hearing that the cast is all set, and we should see an announcement this week...stay tuned!
Updated October 29, 2007
Justice League - Lots of new news on the Justice League movie front:

Rumors that Teresa Palmer has landed the role of Wonder Woman
Greg Berlanti, a television writer and executive producer who is responsible for shows like "Dirty Sexy Money," "Brothers & Sisters," "Everwood," "Jack and Bobby," and "Dawson's Creek" has been named as the Director for the Green Lantern spinoff, a direct spinoff of the Justice League film
Director David Dobkin has been named as the director of The Flash, another direct spinoff of the impending Justice League film.
Updated October 18, 2007
FINAL STAR TREK CAST ANNOUNCED
(almost)
Chris Pine as James T. Kirk
Karl Urban as Leanard "Bones" McCoy
Zachary Quinto (and Leonard Nimoy) as Spock
Simon Pegg as Montgomery "Scotty" Scott
John Cho as Hikaru Sulu
Zoe Saldana as Uhura
Anton Yelchin as Pavel Chekov
Eric Bana as the villian, Nero
The last piece of the puzzle - Who is playing Christopher Pike?
Updated October 11, 2007
Assuming the writer's strike happens, here's a list of the studio's priorities and shooting start dates for comic book movies:

Wolverine - November 7, 2007
Magneto - January 1, 2008
G.I. Joe - February 8, 2008
Justice League - February 11, 2008
Dragon Ball Z - Fall 2008



Star Trek (reboot) - New casting updates! All of the main cast, except for Captain Kirk, Dr. McCoy and Captain Pike, have been cast!

"Hot Fuzz" and "Shaun of the Dead" star Simon Pegg is set to play chief engineer 'Scotty'

Asian-American comedy actor John Cho, best known as Harold in "Harold & Kumar Go To White Castle", is set to play the ship's pilot Hikaru Sulu.

Shooting begins November 5th
Updated October 10, 2007
Star Trek (reboot) - Aussie Eric Bana ("Troy," "Munich") has officially signed on to play the villain Nero in the J.J. Abrams-directed reinvention of the "Star Trek" film franchise for Paramount.
Chris Pine ("Princess Diaries 2," "Smokin' Aces," "Just My Luck") is also in discussions to star as Captain Kirk, joining the already cast Zachary Quinto ("Heroes") as a young Spock, Anton Yelchin as Chekov, Zoe Saldana as Uhura and Leonard Nimoy returning to play the older Spock.
Terminator Salvation: The Future Begins - Warner Bros. Pictures has acquired North American distribution rights to "Terminator Salvation: The Future Begins," putting the project on the fast track to begin production in early 2008. "T3" scribes John Brancato and Michael Ferris penned the screenplay, whilst a director is being finalized (McG is the odds-on favorite).
The producers said it wasn't yet clear whether Arnold Schwarzenegger will be back for his fourth appearance in the franchise, but they've left it open for him to do a cameo.
Transformers 2 - ComingSoon.net got an interview with Spielberg, and here's what he said about "Transformers 2" and lead actor Shia LaBeouf -
"Spielberg told us they are going to be multiple "Transformers" films that the hot young actor is signed on to do and that there's already a story for the second one, but production depends on the pending writer's strike."
Thundercats - Video gaming veteran Jerry O'Flaherty will helm Warner Bros. Pictures CG-animated "Thundercats" feature, based on the popular '80s cartoon, comic and toy line.
Wolverine - Kym Barrett has joined the crew of the much anticipated 'Wolverine' spin-off. Producers are also looking at Queenstown, New Zealand as a possible shooting location.
Updated October 3, 2007
Sex and the City

- For you girls out there, SPOILER ALERT!!!! Highlight this copy to see it: (Spoiler start)

There is a photo going around the Internet showing Sarah Jessica Parker on the set of the movie in a wedding dress. Does she finally marry Mr. Big?

(Spoiler end)
Fast and the Furious 4 - Vin Diesel and Paul Walker are in negotiations to reunite for the fourth installment of Universal's "Fast and the Furious" franchise. I say, while you're at it, put Keanu Reeves in there too so that no one has any talent!
Indiana Jones and the Kingdom of the Crystal Skull - Over 2000 production stills, a complete production budget breakdown, possibly the script and other sensitive materials from the production office of Indiana Jones have been stolen. Director Steven Spielberg's Universal Studio office was raided by a thief recently who quickly began offering the goods for sale to the highest bidder amongst entertainment websites. The LAPD & FBI also managed to nab the thief yesterday afternoon at The Standard on Sunset in Los Angeles. Now, if they could just catch Nicole Brown and Ron Goldman's murderer...oh wait...right.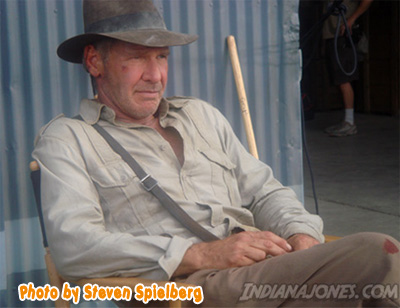 Updated September 28, 2007
Karate Kid (remake) - IGN Movies has been informed by a reliable source that Sony Pictures is developing a remake of The Karate Kid that will be produced by Will Smith's Overbook Entertainment and Jerry Weintraub. Will's 9-year-old son Jaden Christopher Syre Smith ("The Pursuit of Happyness") is apparently attached to star in the remake.
Justice League - I'm hearing that Jessica Biel has decided to pass on playing Wonder Woman in the film series. So sad...
Updated September 27, 2007
Justice League - JusticeLeague-On-Film.com is reporting...

Maxwell Lord is the main villain along with the cyborg OMACs.

All 7 "founding members" of the JL will be featured - Presumably, that would be Superman, Batman, Wonder Woman, Flash, Green Lantern, The Martian Manhunter and Aquaman.

JL will feature big "epic" battles between Superman and Batman as well as Superman and Wonder Woman
The budget for JL is said to be around $160 million.
Terminator 4 - Penned by Michael Ferris and John D. Brancato ("Terminator 3") and intended to be the first of three new movies, the new one will follow the events of "T3" and be post-apocalyptic. While it's not known whether Nick Stahl and Claire Danes will return, John Connor and Kate Brewster are indeed in the script.
Transformers 2 - After weeks of "will he or won't he return?" buzz, Michael Bay will reportedly reprise his directing duties for Paramount and DreamWorks' Transformers 2, which is targeting a tentative June 26, 2009 release. According to Variety, "Bay has not yet inked a deal to helm the follow-up but is in the final stages of negotiation. With Bay's involvement, [the first film's star, Shia] LaBeouf is expected to return as well."
Zen in the Art of Slaying Vampires - Russell Mulcahy ("Resident Evil: Extinction," "Highlander") will helm the film for CP Productions and Capitol Films. Based on the first in a three-novel series by Steven-Elliot Altman, the hero is turned into a vampire as he and his lover are attacked in lower Manhattan. She dies, and he struggles to overcome his murderous instincts and thirst for blood through Zen meditation. A struggle for his soul ensues between the bloodsuckers and the zen masters.
The Fantastic Mr. Fox - Wes Anderson confirms to MTV News that his "Rushmore" leads Bill Murray and Jason Schwartzman will reunite for his stop-motion film "The Fantastic Mr. Fox" for 20th Century Fox. "George Clooney is going to be Mr. Fox. Bill Murray has a part. Jason [Schwartzman] is doing a voice. That's our team. It will take a couple years to do the animating . It's like 'Nightmare Before Christmas' or those Christmas specials. These [characters] have fur, so it's not like claymation" says Anderson.
Updated September 26, 2007
The Day The Earth Stood Still (remake) - The Keanu Reeves-led remake has been delayed from May 9th 2008 to December 12th 2008. Unfortunately, unless "Wolverine" is scheduled for the Summer, Fox won't have one major film coming out next Summer short of Eddie Murphy comedy "Starship Dave". Yikes!
Mall Cop - Kevin James is set to co-write and star in the Sony Pictures comedy "Mall Cop" says the trades. James will play a mild-mannered security guard who patrols a shopping mall that's taken over by highly organized thieves.
The Human Factor - Clint Eastwood is looking to direct "The Human Factor," a quickly brewing drama about how the 1995 Rugby World Cup helped heal post-apartheid race relations in South Africa. Morgan Freeman had already signed on to play Nelson Mandela in "The Human Factor," Matt Damon is in preliminary talks to play the captain of the Springboks, and Warner Bros. Pictures is in talks to finance and distribute.
The Punisher: Warzone - Director Lexi Alexander has updated her website with the latest casting announcements, but added that T.J. Storm ("Conan") will play Maginty in the movie. The actor joins a cast that includes Ray Stevenson, Dominic West, Doug Hutchinson, Wayne Knight, Dash Mihok and Colin Salmon.
Updated September 25, 2007
Justice League - Lots of news...

Although the likes of Victoria Hill, Silvia Colloca, Ivana Milicevic have all tested for the role of Wonder Woman, trade paper Variety reports that Jessica Biel is already in talks.

As speculated, the 'Lantern' of this film is John Stewart, whilst The Flash is the youngest member and has a crush on Wonder Woman.

Batman has a piece of technology he developed called the 'Redeye', that he can use to spy unbeknownst on the other League members. It becomes a catalyst for events when a villain takes control of it, whilst one of the League members will 'go bad'." Sounds like the Brother Eye story from recent comics.
The Spirt - Sarah Paulson, Dan Lauria, Stana Katic, Johnny Simmons and Louis Lombardi have joined the cast of "Will Eisner's The Spirit" to be helmed by comic auteur Frank Miller. The film noir follows rookie cop Denny Colt (Gabriel Macht) who returns from the dead to fight crime as the Spirit from the shadows of Central City. Samuel L. Jackson will play the villainous Octopus with Eva Mendes and Scarlett Johansson as femme fatales.
The Dark Knight - There was recently a fatal accident on the set of The Dark Knight. Our most heartfelt condolences to the family and friends of that crew member.
Shazam! - Dwayne "The Rock" Johnson is up for one of two roles in the new Captain Marvel movie. Either Captain Marvel himself, or the films villain, Black Adam. Stay tuned for more...
Updated September 24, 2007
Justice League - Casting and Auditions are underway! I'm hearing rumors that the film may start production as early as February 2008. Let's hope it doesn't suck.

Here's a note about casting...
Casting directors are looking for 8-9 leads with the following description: "We are looking for Male actors 18-35 years old; Caucasian and Black. The primary focus should be to find Caucasian actors. There is 1 role for the Black Actor (Green Lantern Jon Stewart? Black Lightening?) We are looking for Female actors 20-32 years old; any ethnicity. (Wonder Woman? Hawkgirl?)"
Also...Moviehole is reporting that Aussie actress Victoria Hill auditioned for the role of Wonder Woman.
State of Play - Jason Bateman will join Brad Pitt and Edward Norton in the Kevin Macdonald-directed adaptation of the British miniseries "State of Play" for Universal Pictures.
The Dark Knight - Beatrice Rosen ("Peaceful Warrior") and Joshua Harto ("The Believer") have joined the cast of Warner Bros. and director Christopher Nolan's The Dark Knight. No word yet on what parts they'll play.
Updated September 21, 2007
Punisher 2: War Zone - Joining Ray Stevenson are Dash Mihok as Detective Detective Martin Soap, Colin Salmon as Agent Paul Budiansky and Doug Hutchinson as Loony Bin Jim.
Justice League - Lots of news...
I've heard rumors that Brandon Routh is being asked by Warner Bros. to be part of the Justice League movie as Superman. However, I doubt it. And now, Tom Welling is NOT going to be in this film.
I'm also hearing that Ryan Gosling is on the short list to play a young Batman in the film...again, total crap. But who knows?
George Miller has been officially announced by Warner Bros. to be directing the project.
Lost & Found - Katherine Heigl has optioned film rights to Jacqueline Sheehan's bestselling dramatic novel "Lost & Found" reports Variety. The story focuses on a widowed psychologist who moves to a remote Maine island and works in an animal hospital after her husband dies. Whilst Heigl will produce, it's not yet known if she may star.
Updated September 20, 2007
Superhero - Dimension films has announced the start of principal photography and the ensemble cast for the feature comedy Superhero. Written and directed by Craig Mazin, the ensemble cast includes Drake Bell, Sara Paxton, Christopher McDonald, Leslie Nielsen, Kevin Hart, Marion Ross, Ryan Hansen, Jeffrey Tambor, and Brent Spiner. David Zucker and Robert K. Weiss will serve as producers on Superhero.
Monsters vs. Aliens - DreamWorks Animation has moved up the 3D CG-animated feature "Monsters vs. Aliens" two months to March 27th 2009 reports the trades. The date change avoids a head-to-head collision with James Cameron's "Avatar" which would have meant the films would be fighting over the growing number of digital 3-D screens.
Indiana Jones and Kingdom of the Crystal Skull - Lucas says "It's just a completely different character, so you're not invested in him in any way. The fact that that character, after the first part of the movie, isn't needed doesn't become a problem. Whereas I think with the scene we had, where [Indy] says goodbye to his dad, everybody was, "Wait a minute! Isn't he coming back?" So in the end, I think it turned out for the best. Sean just retired and he wants to stay retired, and I understand that. [Laughs] I think he just said, "Look, I've done it, I've done it." He was very tempted, you know, and we talked for a long time. But in the end, he just said, "Eh, I'm playing golf."
Mr. S: My Life With Frank Sinatra - Brett Ratner and Chris Tucker are looking to recapture that "Rush Hour 3" magic on "Mr. S: My Life With Frank Sinatra." The project is based on the book by long-time Sinatra valet George Jacobs, a tell-all about his many years working with The Chairman and the rest of the Rat Pack.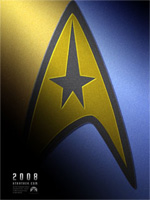 Updated September 18, 2007
Star Trek (reboot) - Zoe Saldana (Lt. Uhura) will join Zachary Quinto (Spock) and Anton Yelchin (Chekov) in the franchise's new installment. The part of the beautiful African-American communications officer was originated by Nichelle Nichols.
Transformers IMAX and Transformers 2 - Transformers director Michael Bay has commented on his official message board about the IMAX release and sequel:
"...I just saw the first IMAX print of 'Transformers'. Not depressing - freakin AWESOME! They need to bottle the magic of IMAX because it's the future of cinema. "It comes out next Friday the 21st. I added some extra scenes.
"'Transformers 2', well that's another story. Iching [sic] to work pre-strike (June) so I might jump ship and come back a year or so later cause people at the studio have been dragging for two months. Not sure why. I'll keep you informed."
Thor - Director Matthew Vaughn spoke about the upcoming film...
"My only concern initially was that it's another fantasy film [after Stardust], but it's different in the sense that it's a superhero film set in the world of fantasy. You've got Thor and Odin and it's set in Asgard - it's not going to be like Lord of the Rings or even Narnia. I think it's important to keep it comic book. We're not doing the Thor of Norse mythology. We're doing the Marvel Thor."
Sex and the City movie - Jason Lewis and David Eigenberg will reprise their roles as the significant others of Samantha (Kim Cattrall) and Miranda (Cynthia Nixon) in the "Sex and the City." Lewis and Eigenberg join fellow returning paramours Chris Noth and Evan Handler. Jennifer Hudson as Carrie's assistant is the only new name to surface so far. Production is scheduled to begin in New York within the week, additional cast members should be announced imminently.
The Chronicles of Narnia: Prince Caspian - The first official one-sheet of the second CS Lewis book to be made into a movie, Prince Caspian, has finally premiered.
Directed by Andrew Adamson, this time around, the Pevensie siblings (Peter, Lucy, Susan and Edmund) once again return to the magical land of Narnia, only to learn that 1300 years have passed.
Updated September 15, 2007
Paddington Bear - Warner Bros. is teaming with "Harry Potter" producer David Heyman to adapt British kids classic "Paddington Bear" reports Variety. Hamish McColl ("Mr. Bean's Holiday") is writing the screenplay for a live-action movie based on Michael Bond's series of books for young children about a talking bear who's adopted by a London family when they find him lost at Paddington Station. Are there NO original ideas left in Hollywood?
$40,000 Man - Terry Zwigoff ("Ghost World," "Bad Santa," "Art School Confidential") will direct the New Line Cinema comedy "The $40,000 Man" reports the trades. The film centers on a legendary astronaut who finds himself horribly injured in a crash and is rebuilt by the government to be a bionic man, but on a measly budget of only $40,000. Fun premise, but wasn't this already made?
Dali & I: The Surreal Story - Cillian Murphy ("Batman Begins") has signed on to star opposite Al Pacino for the indie film "Dali & I: The Surreal Story," reports Reuters. Set during a 20-year span beginning in the 1960, the Andrew Niccol-directed film centers on the period of the Spanish surrealist's (Pacino) life after he created his most famous masterpieces and embraced his flamboyant eccentricity. During this time, he also befriended and mentored Stan Lauryssens (Murphy), a young art dealer whose memoir "Dali and I" is the basis for the film.
Updated September 12, 2007
State of Play

- Edward Norton is ready to rejoin forces with "Fight Club" co-star Brad Pitt in Universal's adaptation of "State of Play." The original miniseries was scripted by Paul Abbott and directed by David Yates. Matthew Michael Carnahan took the first crack at the American script, which features Pitt as a former political operative who uses his connections to become a reporter. Things get complicated when he begins investigating a murder involving a rising congressman (Norton) and even has an affair with the politician's estranged wife.
The Simpsons Sequel

- Al Jean, executive producer and show runner on " The Simpsons ," has admitted to The New York Post that a "Simpsons Movie " sequel is a long way off. Jean says "We would only do a sequel if we believed it was a movie that had to be made, just like we did with the first one.
John Rambo - Lionsgate will release Sylvester Stallone's "John Rambo," the fourth in the Rambo series, on January 25th 2008. Set in Thailand, the story follows a group of Christian aid workers who recruit John Rambo (Sylvester Stallone) to guide them up the Salween River to deliver medical supplies to the Karen tribe of neighboring Burma (aka Myanmar). When the missionaries fail to return, Rambo is persuaded to take a group of mercenaries back into the war-torn border region to find them.
Updated September 11, 2007
Sex and The City (movie) - Oscar winner and former American Idol contestant Jennifer Hudson has landed a role in the 'Sex and the City' movie. The film begins shooting next week in New York, and takes places four years after the end of the series.
Tron (Remake) - Commercial director Joseph Kosinski, who last month signed on to helm the remake of "Logan's Run" for Warner Bros. Pictures, is in final negotiations to develop and direct a remake of 1982 cult classic "Tron" says The Hollywood Reporter.
Watchmen - Filming has begun for Zack Snyder's comic book adaption, 'Watchmen .' Opening March 6, 2009, the Warner Bros. release stars Patrick Wilson, Jackie Earle Haley, Matthew Goode, Billy Crudup, Jeffrey Dean Morgan, Malin Akerman, Carla Gugino and Stephen McHattie.
Click here for more Popcorn News!!!