| | |
| --- | --- |
| Popcorn Article by Jonathan Soleymani | August 19, 2007 |
'Comic Book' movies are at the forefront of the movie industry, so we decided to make our own list of
the GREATEST, and WORST, Comic Book Films Ever!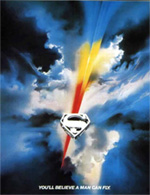 1. Superman: The Movie (1978)
"You'll believe a man can fly." That was the tagline that started it all. In the very first REAL superhero film, written by famed author Mario Puzo, Christopher Reeve became Superman for several generations of fans. Although Brandon Routh and Tom Welling have done a great job with trying to fill the costume, there isn't anyone in the world who doesn't think of Christopher Reeve as Superman.
Richard Donner cast an awkward, skinny and lanky actor to play the part – and it worked beautifully. He put on a few pounds of muscle, colored his hair, and became The Last Son of Krypton. With Margot Kidder's Lois Lane and Gene Hackman's Lex Luthor, not to mention the late, great Marlon Brando as Jor-El, the cast was complete.
Sadly, after years of complications from his paralysis, Christopher Reeve passed away from a heart attack on October 10, 2004. That was the day, that a Super Man died.
---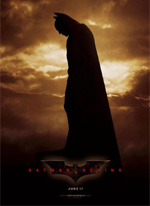 2. Batman Begins (2005)
The best of the more modern comic book films, David S. Goyer wrote a film that pushed comic book films to the next level. Christopher Nolan picked a great leading man in Christian Bale, who surprised most. - most couldn't see him as Bruce Wayne or Batman.
Using a similar outline as the 1978 Superman: The Movie, this 'origin' film really explains everything in the Dark Knight's world and grounds it in reality. After watching his parents brutally murdered in front of him, the boy grows up to be a disenchanted, psychologically destroyed man who wants vengeance. Its only after learning from Ducard and Ra's Al Ghul that he begins to have a purpose – Justice – Not Revenge.
With a great supporting cast (Sir Michael Caine, Liam Neeson, Katie Holmes, Gary Oldman, Cillian Murphy, Tom Wilkinson, Rutger Hauer, Morgan Freeman and Ken Watanabe), Bale pulls off the unthinkable – starting from scratch and truly explaining the origin of the Dark Knight.
---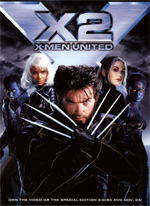 3. X2: X-Men United (2003)
After Bryan Singer's original X-Men film, the sequel would be tough to top. The best of the X-Men series, this film is the reason why Warner Bros. is trying to put together a Justice League film.
This movie did EVERYTHING right for a comic book film: Great characters, good story development, good action…and Wolverine's claws. Each character had his/her moments (except Storm, arguably), especially Hugh Jackman as Wolverine. These films literally made him a box office draw and movie star. Women love his charm and attitude, while men just think of him as "bad ass." There isn't a "team" superhero film that even comes close, so make sure to watch this film.
---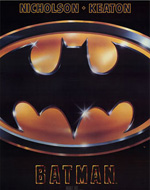 4. Batman (1989)
From camera angles to coloring, watching the 1989 Batman is like watching a beautiful painting for two hours. Very beautiful, (and very unrealistic), Burton created a completely new world for Gotham City to reside in – something he's done so amazingly in all of his films, from Edward Scissorhands to Corpse Bride.
When casting was originally announced, fans of The Dark Knight panicked when Michael Keaton, from Beetlejuice and Mr. Mom fame, was named as the Caped Crusader. When Jack Nicholson was announced as his arch-nemesis, The Joker, fans rejoiced. As soon as the first trailer came out, and fans got a glimpse of Michael Keaton as Batman, the fans were silenced…and suddenly excited.
Suddenly, the modern "blockbuster" was back, as legions of fans came out to see the DARK in Dark Knight. Budget estimates were in the $35 million range, but grossing $250 million in the US alone, the film was one of the highest grossing films of the decade, spawning 3 sequels, and the eventual reboot in Batman Begins.
---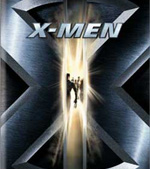 5. X-Men (2000)
The first "team" superhero live action film, X-Men paved the way for films like Justice League (coming soon) and Spider-Man (2002). Bryan Singer truly brought Marvel Comics back into the motion picture industry, which had been completely taken over by DC Comics (Superman, Batman, etc), with this film.
Hugh Jackman became Wolverine, and made it seem like Dougray Scott (who was originally cast, but bowed out) never existed. With the cast rounded out by Patrick Stewart (who IS Prof. X), Sir Ian McKellan, Halle Berry, James Marsden and others, X-Men became the first "modern day" superhero movie.
---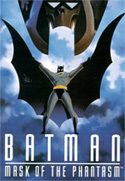 6. Batman: Mask of the Phantasm (1993)
The only animated film that made the Top 10, Batman: Mask of the Phantasm was released in theaters in conjunction with the critically acclaimed series, Batman: The Animated Series. In fact, its probably the best rendition of Bruce Wayne, Joker and other characters, both on or off the screen, EVER.
It's a smart well written mystery that brings the amazing art-deco style of animation to the big screen – a style created for and made famous by Batman: The Animated Series. The movie creates a new villain in The Phantasm, creates an origin of sorts for The Joker, and has some serious character development when it comes to Bruce Wayne.
All in all, the greatest animated superhero film ever.
---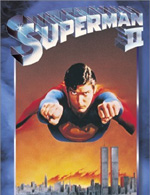 7. Superman II (1980)
Although there were essentially two versions of this film, one by Richard Donner, the other by Richard Lester, both version are essentially the same movie. There are some differences in the newly released Donner version with new footage, a new ending and beginning, but the core of the film stays the same. It's the continuation of Superman: The Movie, not a sequel.
Originally, about 70% of the film was filmed by Richard Donner while filming the Superman: The Movie. However, after disagreements with the Salkind Producers, Donner quit (or was fired) and Richard Lester was brought in to finish the film. He scrapped most of the film, including some great scenes with Marlon Brando, and re-shot most of it.
Although the general plot was the same, some creative differences were made, making it slightly more campy. However, all in all, both films are basically the same and are considered one of the best continuations of any movie franchise.
Christopher Reeve was, and always will be, Superman.
---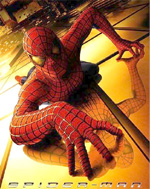 8. Spider-Man (2002)
Marvel's most popular and most famous hero finally made it to the big screen in 2002, with Tobey Maguire as the web-slinger. Several big name directors and actors were attached to the film over the years, including James Cameron (director), and Leonardo Dicaprio (Peter Parker). However, once Sam Raimi took over, he auditioned Tobey Maguire and the rest became history.
With a cast rounded out by Willem Dafoe, James Franco and Kirsten Dunst, this movie showed how comic book films didn't need to be dark to do well – Blade, Batman, X-Men, etc. And finally, in 2002, special effects caught up with the comic book world, and web slinging could be done.

However, as many people have complained, Willem Defoe's costume as the Goblin was a disaster. In fact, if the villain would have been better, this film would have ranked much higher on the list, as this was a good film – unlike Spider-Man 3…which was horrendous.
---
9. Men in Black (1997)
The only real 'comedy' on this list, Men in Black is a superhero film that's based more in science fiction than a traditional 'comic book' world.
Will Smith and Tommy Lee Jones are a great comedy pair, who truly feed off each other. With a great supporting cast (gotta love that dog), a great villain (a giant cockroach) and great special effects, the Men in Black series could have gone farther, if it wasn't for the less than 90 minute sequel that under performed at the box office. Great for adults, families and kids, Men in Black is a comedy gem that fits truly stands out in this countdown.
---
10. Blade (1998)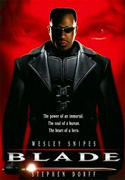 The birth of the modern day comic book film. After years of DC Comics releasing the Batman and Superman films, not to mention TV shows like Wonder Woman and The Flash, Marvel finally took the step to the big screen with a little known cult-hero, Blade.
When Marvel finally decided to go forward with this film, several names were brought up to fill Blade's fangs, including LL Cool J, Denzel Washington and Laurence Fishburne. Finally, while in negotiations to play Black Panther, another Marvel Film that is yet to go into production, Wesley Snipes was brought onto play Blade. Thankfully, with the success of this film, Marvel pushed the production of Spider-Man and X-Men into full swing…and the modern age of comic book films began!
---
Other Good Superhero Films
Although not making the Top 10 list, most of these films are
still good in their own right. Check them out!
The Punisher
X-Men 3: The Last Stand
Batman Returns
Batman Forever
300
Teenage Mutant Ninja Turtles
Ultimate Avengers (animated)
Justice League: Secret Origins (animated)
The Batman/Superman Movie (animated)
Spider-Man 2
Dick Tracy
The Crow
Blade 2
Sin City
---
Top 10 WORST Superhero films Ever
Yikes...some of these you may not even have known existed (Punisher, Captain America),
but this is the reason WHY some people should NOT do comic book films.
Take a look, but DO NOT WATCH THESE FILMS!!!
1. Batman and Robin
2. Catwoman
3. Elektra
4. Captain America
5. The Punisher (Dolph Ludgren version)
6. Spider-Man 3
7. Superman IV: The Quest for Peace
8. Hulk
9. Daredevil
10. Superman Returns

Don't agree? Let me know at Jonathan@PopcornAtTheMovies.com