The Bourne Ultimatum
Jason Bourne Comes Home!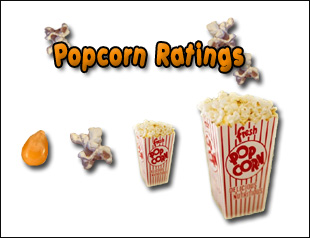 Click here for more info on the Popcorn Ratings System

| | |
| --- | --- |
| Popcorn Review by Sharon Glancz | August 6, 2007 |
"Jason Bourne Comes Home" and he does - with all of the melancholy and intensity that you have come to expect from him. The third installment of the Bourne series does not disappoint the fans of the series. It is an artistic weaving of the complex backstory of Bourne (how he became who he is) and Bourne's quest to find out that story.
Matt Damon gives another strong performance as Jason. As we know, he has his killer instinct, but it is his vulnerability (and tenderness) that shines through even further. His discovery of his past and how he becomes the man we have been watching is an intense and scary moment. But, I don't want to spoil any plot points for those who have yet to see the film.
The supporting cast is amazing in this movie:
Joan Allen (as Pamela Landy) - She has been studying Bourne (in the time since the previous film) and has come to understand him and helps him to discover himself (and herself in the process).
David Strathairn (as Noah Vosen) - Can this man be bad in anything??? His subtle villainous nature becomes more open as he fights to look for Bourne.
Scott Glenn (as Ezra Kramer) - He is onscreen for a short amount of time - but he plays his role as mastermind of keeping things under wraps wonderfully.
Albert Finney (as Dr. Albert Hirsch) - The one who started Bourne on his path. Finney plays the maniacal doctor with ease.
And finally - Julia Stiles (as Nicky Parsons) - She gets into the action even more in this film and has a larger role to play. She steps up and goes toe-to-toe with the rest of the cast.
Negatives...
Not really any negatives. There are a still a few questions left in the background of Bourne. But ultimately, you find out about how Bourne became who he is and how he will fair from now on. Another negative is there is a bit of shaky camera work and short bursts of flashbacks. If you could handle at least 10 minutes of the camera work of "The Blair Witch Project" - then you can handle some of the cinematography of "Bourne Ultimatum".
Positives...
Action, Action, Action. The chase scenes are outstanding - including running and jumping off rooftops. The plot of the film also comes up with twists that are fantastic.
Bottom line...
If you are a Bourne fan - or even just an action fan, this film is for you.