300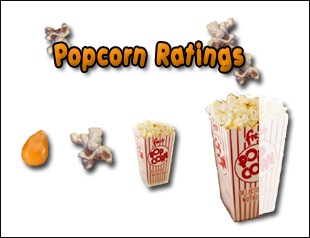 Click here for more info on the Popcorn Ratings System



Popcorn Review by Bill Ramey, aka "Jett."
He is the founder and editor-in-chief of BATMAN ON FILM

WOW! Go see this movie for sure!
Thanks for reading and goodnight.
OK, I'm kidding, but only about the review coming to an end. Honestly, that's all you need to know. 300 is a kick-ass, testosterone-filled, "Hell Yeah!" of a movie.
Director Zack Snyder ( DAWN OF THE DEAD ) adapts Frank Miller's graphic novel with fervor and creativity which has resulted in a truly remarkable film.
300 tells the of King Leonidas of Sparta (Gerard Butler) who leads 300 men to the Hot Gates at Thermopylae to protect his city from thousands of advancing Persian soldiers sent by King Xerxes (Rodrigo Santoro) to destroy Sparta. Simultaneously, Leonidas' wife Queen Gorgo (Lena Headey) attempts to convince the city's powers that be to send more soldiers to help him and his army of "300."
The sacrifice they ultimately made -- and the eventual elimination of the Persians from Greece -- is generally cited as a milestone event in human history, giving the "cradle of democracy" a chance to burgeon and develop.
If you didn't know, I'm from Texas. So while I was watching this film, I kept thinking, "What the hell does this story remind me of?" Then it hit me: The Alamo! The stories are similar in that you've got a small amount of men taking on a huge opposing army. The odds of success and survival are minuscule. So it's like THE ALAMO , BRAVEHEART , and SPARTACUS -- with a touch of SIN CITY -- all rolled into one.
Well, sort of . But I'm sure you all get the picture.
I've seen Snyder talk about this film twice: last summer at Comic Con in San Diego, and this past weekend at Wondercon. Each time he has mentioned how he wanted to honor and duplicate Miller's graphic novel. He does that, but with one caveat -- he recreates it, rather than simply regurgitating it.
300 is stunning to look at. Using real actors and CGI sets, he delivers a Greece that's yet to be seen in this manner on the big screen. The script (by Snyder, Kurt Johnstad, and Michael B. Gordon) follows the source material very closely, but still is tweaked enough by the writers to make it their own. It at once pays homage to Miller while making it something fresh and new for a different medium.
As for the cast, Gerard Butler kicks ass! You would think from the trailers that his role in 300 is that of "The Man who Yells," but that couldn't be further from the truth. His performance shows up clearly what a good man this Leonidas really is. He is both fierce and decent at the same time, but it's evident that Butler had a good time with the role and that comes through in his performance.
Kudos to the rest of the cast -- Gerard Butler, Lena Headey, David Wenham, Dominic West, Vincent Regan, Michael Fassbender, Tom Wisdom, Andrew Pleavin, among others -- for nice performances. In particular to the smokin' hot Headey as Queen Gorgo.
As far as negatives, very few. The CGI-generated sets get a tad old at times -- it looks like a painting come to life -- but that's nothing more than a petty non-issue. Also, don't come to the theater expecting non-stop action and violence, as there are plenty of dramatic scenes. That should only disappoint a few I think -- the "blood and guts" crowd.
I know it's early, but 300 is the best time I've had at the movies this year. I'm sure that most will feel the same way -- whether you are a fan of the graphic novel or have no idea that it exists. 300 will please both crouds.
Now, I'm off the draw a line in the sand, wave the Texas flag, and take a stand dammit!
JETT'S GRADE: A